springerin
originalcopy
Heft 2/2018
Original versus copy today? Who is still really concerned about that in the light of a culture in which copying and (sometimes unthinking) reproduction of sources have almost become standard practice? A culture in which automatically reproducing and spreading any initial material at all has in a certain sense become a fundamental state of affairs. In any event, the now irreversible technological basis for this causes difficulties for culture industry firms. Alongside this, a nexus of problems that cannot readily be shaken off is emerging in widespread instances of plagiarism and indeed illegal copying. But is the art of the present genuinely profoundly affected by all of this? Decades after the advent of Postmodern discourse and Appropriation Art, is it still possible to talk meaningfully and insightfully about authenticity and reproduction... »
read more

Artikel-Springerin- Heft 2/2018-
KIOSK
Publication Date: 05-2017
Artists editions to download online.
KIOSK is a collaboration of 2 people.
A dialogue, a ping-pong by mail.
An Exchange of data, images, drawings, texts during one month.
Every month an artist is invited to propose an exchange with a person of his(er) choice.
A monthly edition will be created.
Format A4, landscape.The number of pages variable.
link
KIOSK 96 PDF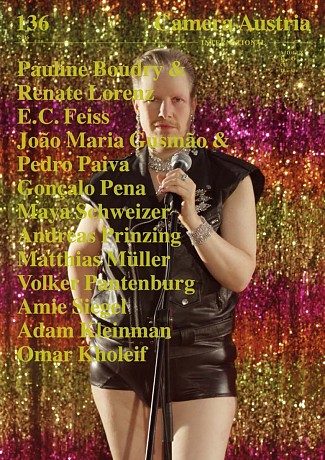 Camera Austria 136
Publication Date: 12. 12. 2016
INTRODUCTION
Our winter issue is out! We are happy to anounce Camera Austria International 136 with contributions by Pauline Boudry & Renate Lorenz, João Maria Gusmão & Pedro Paiva,
Matthias Müller, Amie Siegel, Maya Schweizer.
In this issue, we are focusing on transitions from the photographic to the performative,
on passages in photography leading to the dispositifs of cinema and video, both of which are likewise engaged in a continual process of adaptation. What is awaiting us at the margins of the images?
Are pictorial regimes themselves not being ever more strongly informed by paradigms
that actually rest outside of the visual realm?
Can answers to such determinism be discerned from the traces of superimpositions and collisions between the different pictorial regimes?
On the occasion of the release, we cordially invite you to a cozy Sunday afternoon Apéro with cake at our booth at the Friends With Books fair in Berlin.
Come along, have a drink with us and meet friends! Don't miss:
Starting at 2 pm as part of the official programme,
we host an artist talk with Stefanie Seufert and Reinhard Braun.

Article by Andreas Prinzing-Camera Austria-issue 136-Publication Date: 12. 12. 2016 PDF-
Lieux de Mémoire and Desire

Book published by Archive Books, Berlin, 2015
Texts by
Cecilia Canziani
Volker Pantenburg
Maya Schweizer
Designed by
Anna Lena von Helldorff, Büro Total, Leipzig
144 pages- ISBN 978-3-943620-32-0
15cm × 21cm
Format: Paperback
ISBN: 9783943620320

Lieux de Mémoire and Desire presents five cinematic works of Maya Schweizer and examines how the artist approaches the relation of montage editing techniques with the concept of film and memorial, and film as memorial – a relation which traces back to both the very beginnings of montage and incorporates the research of French historian Pierre Nora.
Recurring moments in Schweizer's multiform art practice revolve around the examination of subtly treated processes of memory regarding historic-political events in public space. In the places, structures, and situations she investigates.




TEXTE ZUR KUNST
Issue No. 82 / June 2011 "Artistic Research"
An Office Chair down on the street, a passerby yells at her dog, or: researching the construction between images / Statement by Maya Schweizer

TEXTE ZUR KUNST-Maya Schweizer´statement-PDF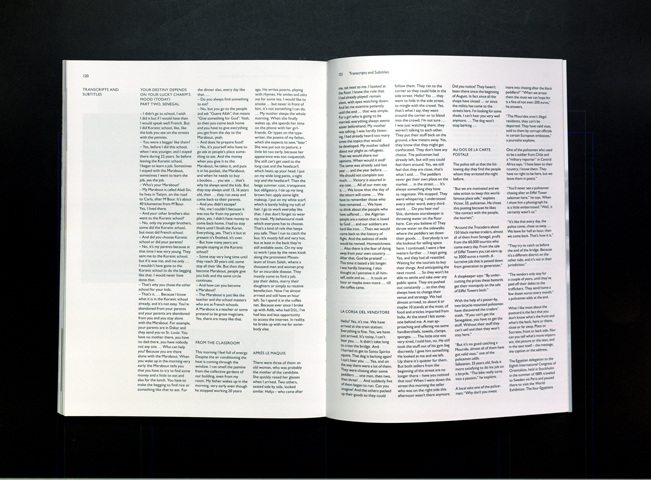 THE SAME STORY ELSEWHERE,
continued, spread, fragmented, daily, backwards and all over again
Book published by Spector books, Leipzig, 2010
Texts by
Madeleine Bernstorff
Sabeth Buchmann
Margit Czenki
Joerg Franzbecker
Nanna Heidenreich
Marcel Odenbach
Ulrich Peltzer
Katja Schröder
Designed by
Hit Berlin, 2010
128 pages - Isbn 978-3-940064-97-4
pdf
Artist Maya Schweizer is working on new audio-visual narratives, in forms of image-text installation they are closer to YouTube than to the cinema. The starting point is usually everyday situations, which she combines with found and invented texts. "I think that in small, personal acts are often visible on the street social conditions. I try to take the stories seriously in their divergence and compare them with my projections, " Maya Schweizer describes her artistic approach.
Six of her video works in "The Same Story Elsewhere" are being commented in detail: Madeleine Bernstorff, Margit Czenki, Joerg Franz Becker, Nanna Heidenreich, Marcel Odenbach and Ulrich Peltzer talk about their impressions and associations and are going through their reflections, the moving images of video in Medium book to understand. Essays by Sabeth Buchmann and Katja Schroder situate Maya Schweizer's artistic work at the interface of art and film, documentary and fiction.
The book is published on the occasion of the exhibition "La même histoire ailleurs" in the Westphalian Art Association, from 4 September to 24 October 2010, shown in Münster.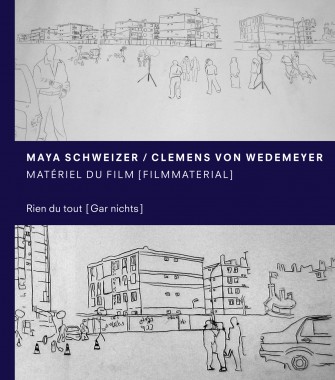 MAYA SCHWEIZER/ CLEMENS VON WEDEMEYER
MATÉRIEL DU FILM
Rien du tout
The Green Box Kunst Kunst edition, 2006
48 pages
47 illustrations
185 x 210 mm
Swiss binding
German / French
Design: Till Gathmann
The Green Box, Berlin 2006
ISBN 978-3-908175-17-9
THE GREEN BOX
For de)flection #2, Maya Schweizer and Clemens von Wedemeyer have extended and transformed their first collaborative film project into book form. With the film's text, production photographs and sketches, this book is a documentation as well as an exploration of the film Rien du tout.