Vulnérable Witness
4-channel sound installation, 2023
featuring:
Nouveau Morceau, 4'16''
Désert, 3'16''
Mehringplatz Abstractions, 6'08''
Scénarios Catastrophes, 04'58''
Thin Walls, 6'34''
Courtesy the artist
Thanks to composer and sound designer Ethan Braun for preparing the sound files for the "Vulnerable Witness" quadraphonic installation.
Produced by Kunsttage Basel on the occasion of the Basel Social Club
from 12. to 18. June 2023, Maurerstrasse Basel.
Interview mit Maya Schweizer zur Premiere ihres neuesten Werkes «Vulnérable Witness»
Press
Particularly today und nichtsdestotrotz
"Maya Schweizer embroiders associative stories and text fragments into the fabric in loose stitches. Language is a medium of understanding and yet never achieves objective validity. The words evoke memories and trigger emotions, but in Maya Schweizer's textile assemblages a stringent narrative does not really become tangible. The fabric falls in uneven folds, the letters dance out of line and the threads do not tighten. "N'importe quelle petite chose fait une conversation" (Every little thing creates a conversation). The change of languages further complicates the conditions.
So what is the point of writing and speaking if we may not understand each other? Why not instead assume that everything that is said is true or nothing? Or do both: make multiple connections and put the doubt itself into words. "Either a babble of voices or nothing at all" reads a sentence on the wall hanging. Maya Schweizer does not give priority to any single voice or statement. The complexity of human understanding is presented to us as fragile, ambivalent and always also processual."
Arne Linde, Januar 2022
Maya Schweizer, Sebastian Jung: En Route
Galerie ASPN
Fliege

Fliege I, Fabric, stitching, 50 cm X 43 cm. 2010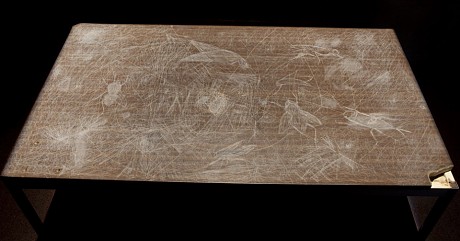 La table grattée
Table, carvings on wood, metal, 73,5 cm X 140 cm x 80 cm, 2010.

Table.grattée.text-peter cross
]It's Not About Nothing

Installation, mixed media, dimensions variable, 2012















]It's Not About Nothing

Collage, mixed media, 107cm x 92,5cm.
Edition for the GfZK, Leipzig 2014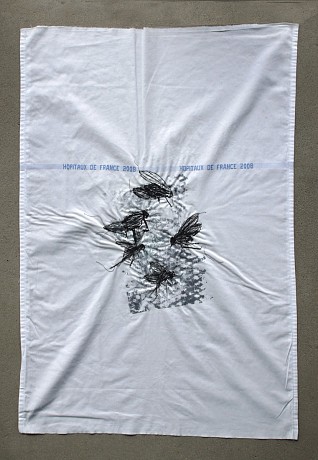 Fliege III

Fabric, stitching, 59 × 72 cm. 2010


















A Memorial, …

Collage, acrylic on inkjet print 100 cm x 139 cm, 2015.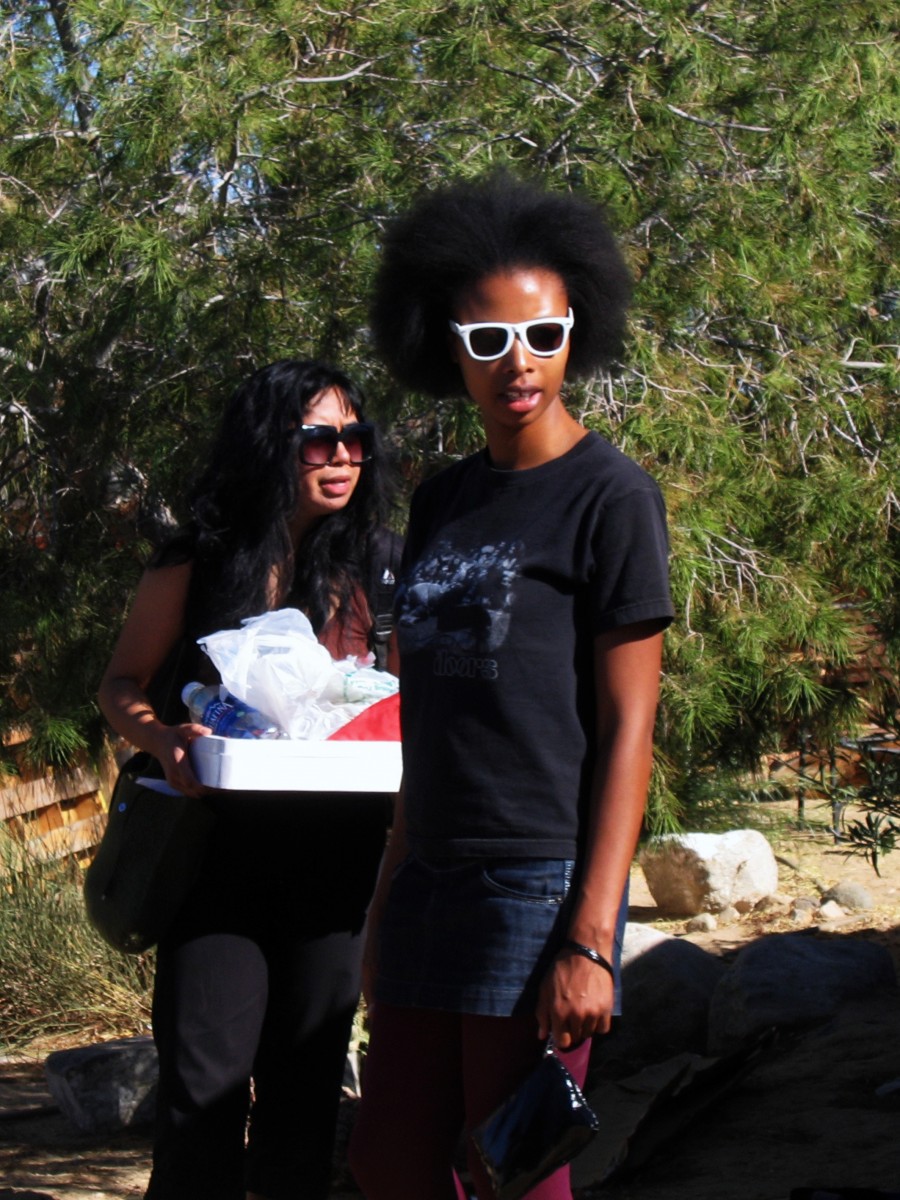 Shifting Time

Schichtwechsel
2009
80 photographs, presented as slide
show, wall installation
+ three photo montages, 120 × 80 cm
and 50 × 75 cm.

The images were taken in 2008 in Los Angeles. Similar scenes
from everyday life were observed in different
parts of the city so as to visually illustrate
the social differences between individual sections
of the city. A wall installation of these images
was then photographed in order to further develop
the concept of a photo montage
of several different images.

Die Aufnahmen entstanden 2008 in Los Angeles.
In verschiedenen Teilen der Stadt wurden ähnliche
Alltagssituationen aufgenommen, um so die sozialen
Unterschiede zwischen den einzelnen Bereichen
der Stadt visuell vergleichbar zu machen.
Eine Wandinstallation aus
diesen Aufnahmen wurde abfotografiert,
um so das Prinzip der Bildmontage aus mehreren
Aufnahmen deutlicher herauszuarbeiten.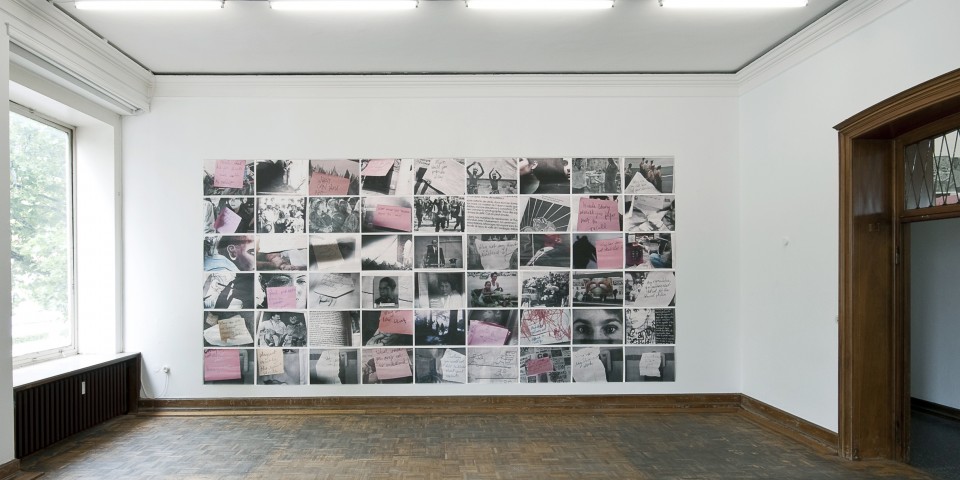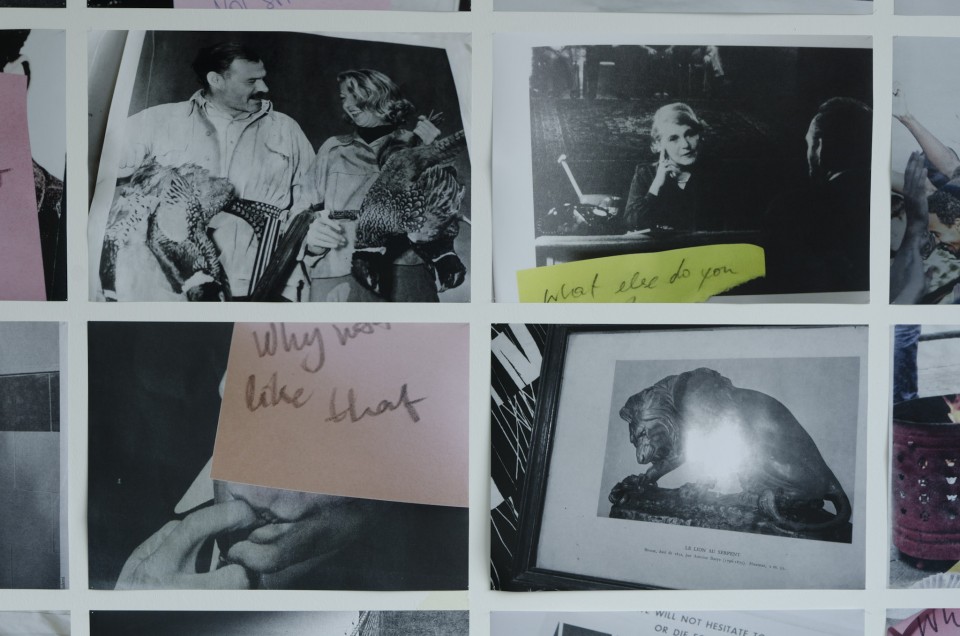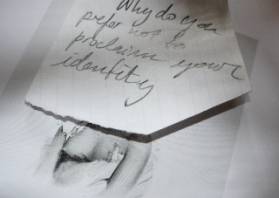 Which Story Would You Prefer Not To Recall
An welche Geschichte würdest Du dich lieber nicht erinnern
48 prints of each 42 x 59 cm –
Total Format of installation variable ca. 450 x 270 cm, 2009-2013-and further-
..."In terms of content, there were links here with the only photographic work in the exhibition, entitled Which story would you prefer not to recall? (2009). From her collection, Schweizer selected press photographs, historical images (for example, of the Eichmann trial in 1961) and portraits of famous personalities (including Barack Obama). To some of these she added coloured Post-it notes with handwritten phases. One black and white newspaper image, for example, shows a car driving towards the Gaza Strip, the image annotated with the question: 'What would you prefer not to see?' In general, the artist generates an incomplete tableau of collective memory and questions the way history is produced and visually recorded. The exhibition as a whole functions something like a many-layered image-text-sound album with five tracks. The viewer's attention is raised whenever the private and the public, the past and the present, the real and the symbolic overlap – as new narrative modes and all that emerges between the images point beyond the individual work and reach out to the viewer's own experiences."
Cynthia Krell (Translated by Nicholas Grindell)
Frieze Review - 26 Mar 2013.
Frieze- Cynthia Krell- Maya Schweizer Kunstverein Langenhagen