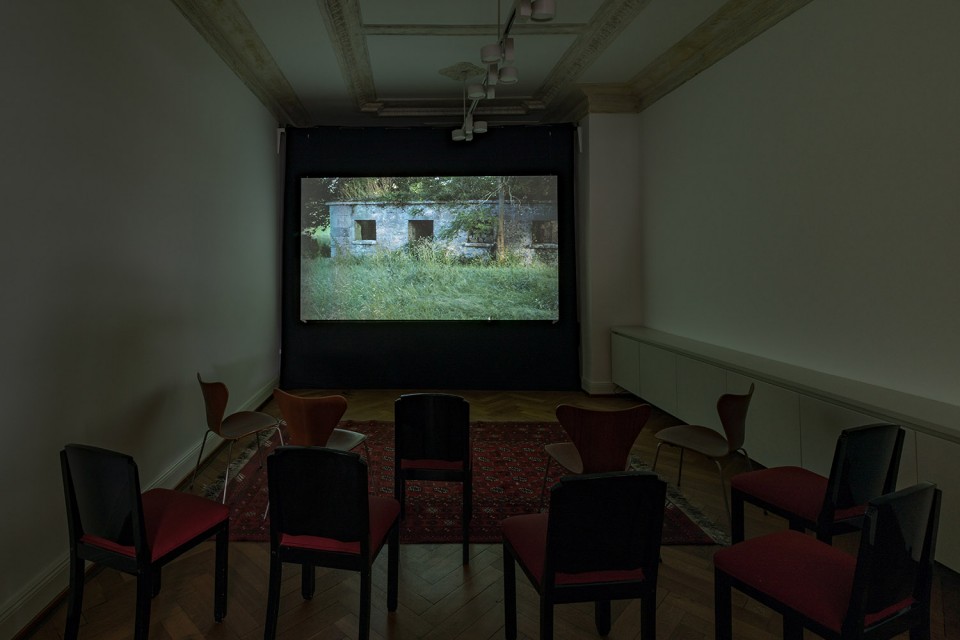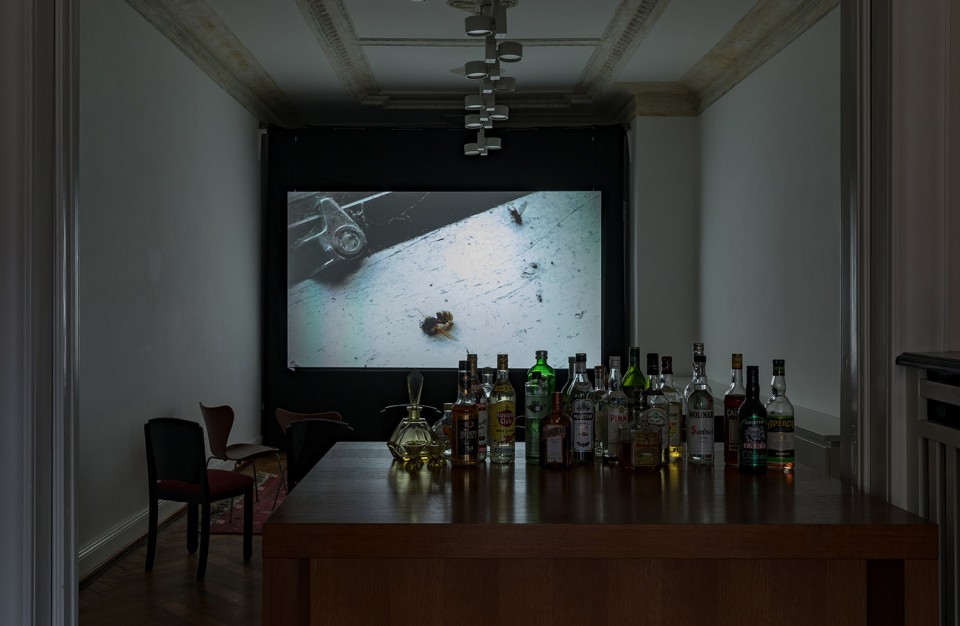 A Tall Tale

14. Dezember 2017 bis 1. Februar 2018
Drawing Room, Hamburg
Esther Schulte & Alexander Sairally
Hofweg 6
22085 Hamburg
Telefon 040-55 89 57 24
Web www.drawingroom-hamburg.de
E-Mail contact@drawingroom-hamburg.de


Maya Schweizer verwebt in ihren multimedialen Arbeiten Bild, Ton und Text zu subtilen Gegenwartsanalysen, die immer auch eine historische Ebene oder einen konkreten Bezug zu einem kollektiv erinnerten Ort haben. Mit dem Verfahren des 'Layering' erzeugt sie komplexe Schichtungen verschiedener Zeit- Ort- und Wahrnehmungsebenen.

In ihrem auf der Berlinale 2017 im Forum Expanded vorgestellten Film "A Tall Tale" verschmilzt die Künstlerin die einfühlsame Erkundung des Settings rund um eine Irische Burgruine aus dem 13. Jahrhundert mit einer fiktiven Ebene – der Welt der Geistergeschichten. Gleich zu Beginn lädt uns die Stimme von Orson Welles zu einer "short story, straight from the haunted land of Ireland" ein: wabernde Gewässer, Froschgequake, Baumsilhouetten, krächzende Raben, Risse in Ruinen, von Geisterhand bewegte Türknäufe oder das Geräusch von Pferdehufen erwecken Assoziationen an die 'Tales of Mystery and Imagination' von E. A. Poe oder an Literaturverfilmungen wie Laurence Olivier's 'Hamlet'. Mit ihrem fulminanten Ritt durch die Geschichte des film noir nimmt uns Schweizer mit auf eine (über-)sinnliche Reise in eine Welt aus Ruinen und Filmruinen und feiert so gleichzeitig die Geschichte des Kinos.


Öffnungszeiten: Dienstag bis Donnerstag, 12.00 bis 19.00 Uhr
und nach Vereinbarung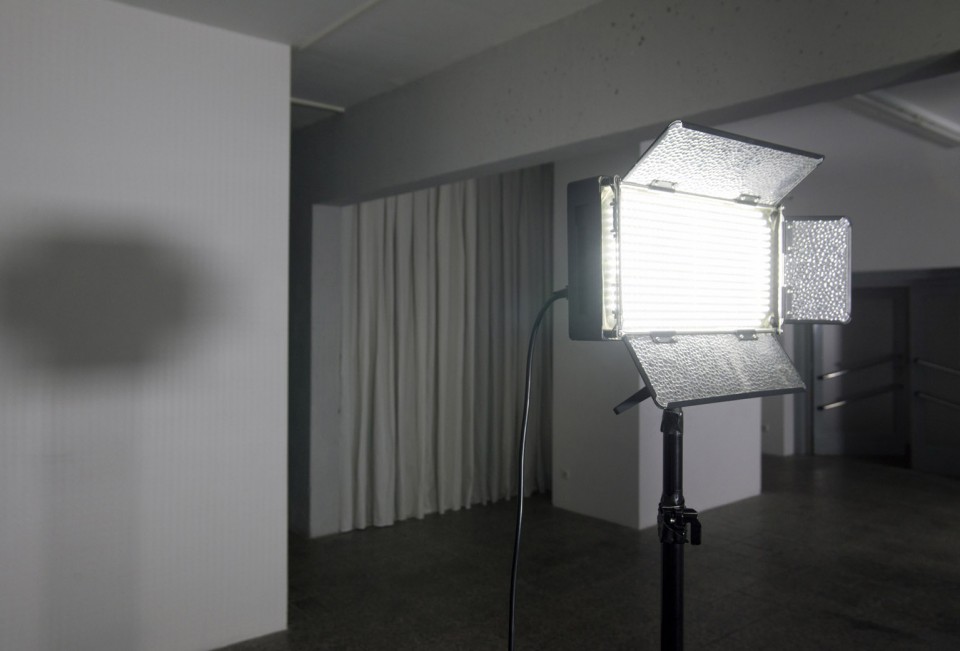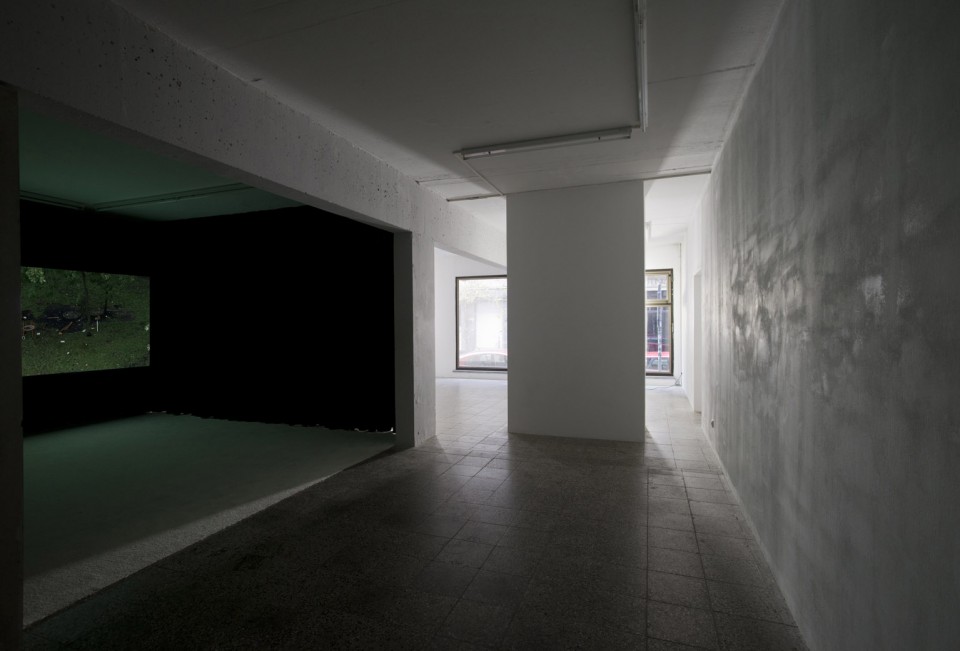 Die Luke, eine Fliege und dort die Puschkinallee
08 December 2017 — 15 January 2018
KV — Verein für Zeitgenössische Kunst Leipzig e.V.
Kolonnadenstrasse 6, Leipzig
KV Leipzig
Das sah doch mal anders aus? Der Blick der Kamera geht hoch über ein Areal in Berlin, wo sich die Wege von Tourist*innen, Obdachlosen, Passant*innen und Polizist*innen kreuzen. Dann schweift er ins Innere des Raumes, und wir sehen wo wir sind: In einem Wachtturm, der einst das Niemandsland überwachte, wo Ost und West aneinander stießen. Kaum verständliche Radiosendungen stellen die Verbindung her zwischen den Zeiten und Räumen. Dieses Motiv von Vermittlung und Abgrenzung wiederholt sich in der Installation von Maya Schweizer im KV: Die Schaufenster sind halbverspiegelt, so dass Blicke von außen und innen nur abhängig vom Lichteinfall möglich sind. Eine Wandlung von Blickregimen in der Zeit klingt hier ebenso an, wie die Transformation disziplinarischer Architekturen. Das gesamte Szenario schließt metaphorisch das architektonische und gesellschaftliche »Innen und Außen« kurz und zeigt unsere gesellschaftliche Ordnung als historisch geschichtete Machtverhältnisse von Ausschlüssen, Grenzziehungen und Übergängen.
* Mit freundlicher Unterstützung durch das Kulturamt der Stadt Leipzig und das Bureau des arts plastiques des Institut français und das französische Kulturministerium.
Kuratiert von Kilian Schellbach
Öffnungszeiten:
Di 18-22 h
Do 16-19 h
Fr 16-19 h
Sa 14-18 h
Whenever the Heart Skips a Beat

An art festival at Mehringplatz with performances, workshops, interventions within the public
space, an exhibition and a symposium.

1. - 15. September 2017



A Tall Tale
67. Berlinale, Forum Expanded
10. February 2017 21:30 Akademie der Künste, Hanseatenweg 10
12 February 2017 12:30 Arsenal 1, Potsdamer str. 2
A Tall Tale
A film by Maya Schweizer
HD, 16´, Germany / Ireland, 2017
"A thin crack extending from the roof, down the front of the building
and into the adjacent lake" forms the mise en scene of the film, noted by the narrator
when he arrives at the House of Usher.
A cinematic ghost seems to lead the spectator onwards, passing through a landscape of ruins and films
and ruins of films that evoke phantoms and fairies…

A Tall Tale- postkarte
La répétition mise à l'épreuve / Putting Rehearsals to the Test.
Leonard & Bina Ellen Art Gallery, SBC Gallery of Contemporary Art, VOX, centre de l'image contemporaine
Montreal, Canada
September 01 - November 26, 2016
curators
Sabeth Buchmann, Ilse Lafer and Constanze Ruhm
While the subject of "rehearsal" is popular in film and
theater, as well as in the fine arts, it has been scarcely
considered in historical and contemporary art discourses.
It is with this in mind that the exhibition
Putting Rehearsals to the Test investigates the role and function
of the notion of "rehearsal," understood as a methodology,
a modus operandi, a medium, a site of representation and
reflection for artistic production processes.
VOX, centre de l'image contemporaine
RAM Publications - PUTTING REHEARSALS TO THE TEST
Art | Memory | Place
Art | Memory | Place: Artists' Films
IMMA, Irish Museum of Modern Art, Dublin
March 15 - April 3, 2016
Curated by Sophie Byrne and Lisa Moran
Artists Conversation | Maya Schweizer & Maeve Connolly
Tuesday 15 March 2016, 6 - 7pm
Maya Schweizer and Maeve Connolly (IADT, ARC) discuss the role of film as collective modes of remembrance and memorialisation in Schweizer's film Der sterbende Soldat von Les Milles (The dying Soldier of Les Milles) 2014.
Link
Presence/Absence/Traces
Contemporary Artists on Jewish Warsaw
POLIN Museum of the History of Polish Jews
April 01 – April 25, 2016
curated by: Agnieszka Pindera & Ewa Chomicka
The works presented in the exhibition were made during 13 artistic residencies at POLIN Museum. Artists from Poland, Israel, the Czech Republic, the Netherlands, Turkey, and North and South America, represent various approaches to Jewish heritage and multiculturalism in Warsaw. As they create a polyphonic commentary on its history and its contemporary shape...
Link
xyz at Ingeborg Wiensowski´s

xyz with Katja Aufleger, Christin Kaiser, Schweizer Maya
at Ingeborg Wiensowski, art, Berlin
September 12 - 27, 2015.


A Sense of History
n.b.k. at Nordstern Videokunstzentrum, Gelsenkirchen
March 19 - December 18, 2016
KuratorInnen: Marius Babias, Kathrin Becker
Der Neue Berliner Kunstverein bespielt seit 2012 das Nordstern Videokunstzentrum im denkmalgeschützten Nordsternturm in Gelsenkirchen. Auf fünf Stockwerken finden im jaehrlichen Turnus Wechselausstellungen internationaler Videokunst aus den Beständen des 1971 gegründeten n.b.k. Video-Forums statt, der aeltesten und einer der groeßten Videokunstsammlungen Deutschlands mit mehr als 1.600 Werken...
Link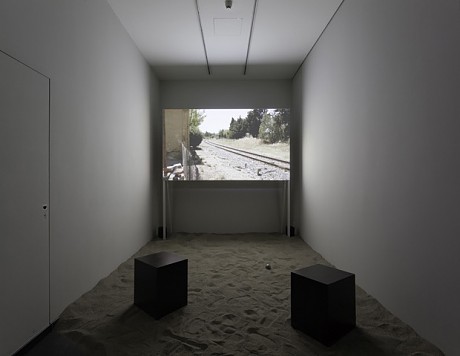 Le Soldat Mourant des Milles
The Dying Soldier of Les Milles
Studio space 45cbm, Staatliche Kunsthalle Baden-Baden
June 6 – July 19, 2015
Curated by Moritz Scheper
In her artistic practice Maya Schweizer operates at the interface between art and film, documentarism and fiction. With her video works and installations, the french artist utilises representations of seemingly everyday occurrences to liberate hidden narratives. She focuses mainly on the socially marginalized and on cracks in collective memory cultures.
For her exhibition at the studio space 45cbm at the Staatliche Kunsthalle Baden-Baden, the artist conceived a video installation, in which the daily routine of Les Milles is caught up by its past - a former brickyard in the town's center was used as internment camp for Germans during World War II and served as concentration camp later on. With the use of montage cutting techniques the artist succeeds in letting the past burst into present.
Link

Le Soldat mourant-TAZ
Edith Seeshow´s Notes
Kunstverein Langenhagen
February 10 - March 31, 2013

"Identity, biography, politics, history and memory are recurring themes in Maya Schweizer's photographs and videos. And the title of this solo show, Edith Seeshow's Notes, is an encrypted summary of her approach, containing as it does the verbs 'edit', 'see' and 'show'. Although Ms. Seeshow plays no further role in the exhibition, present in each of these five works is her constant observing, collecting, sorting and assembling of images..."
Cynthia Krell
Link

Maya Schweizer by Cynthia Krell Kunstverein Langenhagen

Edith-Seeshows Notes -Frieze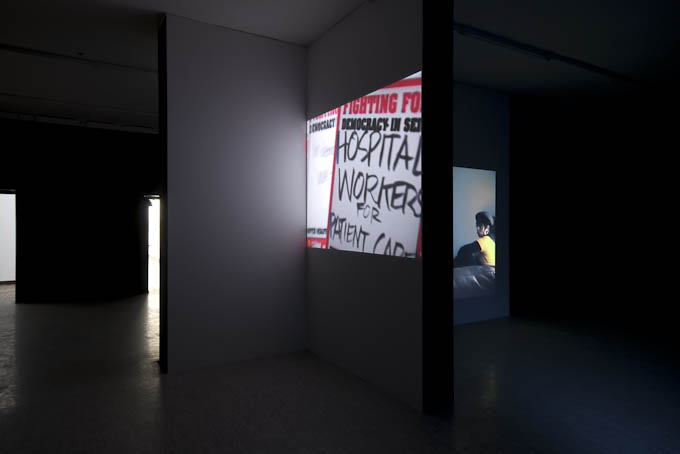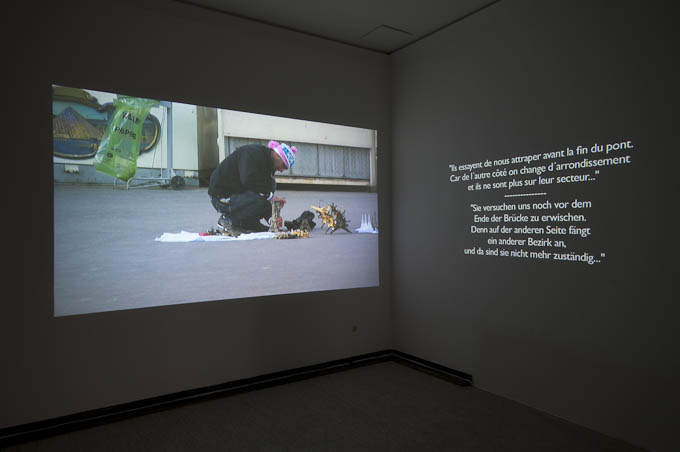 La même histoire ailleurs
The Same Story Elsewhere
Westfälischer Kunstverein, Münster
September 4 - October 24, 2010
Die Ausstellung »La même histoire ailleurs« (Dieselbe Geschichte an einem anderen Ort) gibt einen umfassenden Überblick der bisherigen Film- und Fotoarbeiten von Maya Schweizer (*1976, Maisons-Alfort, Frankreich). Ihre Studien in Frankreich und Deutschland (HGB Leipzig und UdK Berlin) haben sie zu einer Wanderin nicht nur zwischen den Medien, sondern auch den Kulturen ge­macht. Ihr künstlerisches Werk findet ebenso in Fotogra­fien, Zeichnungen, Kurzfilmen wie auch in urbanen Interventionen seine Form. Zentral für ihre Arbeitsweise sind die aufwendigen Recherchereisen in verschiedene Länder, die zu Arbeiten führen, die Form und Sprache als grundlegend politisch ge­prägte verstehen...
Press Release -in German-